Best Online Doctors of 2023
✔️Fact checked
Updated: June 16, 2023
When you're not feeling well, dragging yourself to the doctor's office is probably the last thing you want to do. Online doctors are on call to help you get better from the comfort of your own home.
The best online doctors treat a wide range of conditions, with services including urgent care, mental health screenings, counseling, and even dentistry. Physicians are always board-certified and usually have years of experience in their field, so you can be sure your health is in good hands. We chose the best online physicians based on factors such as treatment options, insurance plans accepted, and whether or not they can prescribe medication.
The 14 Best Online Doctors of 2023
Doctor on Demand: Best for ongoing primary care
Doctor on Demand offers routine wellness checks, urgent care, counseling, and psychiatric services. Patients can choose their doctor and visit their favorites at any time.
BetterHelp.com: Best for therapy anytime
BetterHelp offers flexible ways to speak with a therapist, including scheduled video appointments and 24/7 text messaging.
JustAnswer: Best for quick medical questions
When you have a medical question but can't wait for an appointment, JustAnswer doctors can respond within minutes.
PlushCare: Best for comprehensive care
Get access to everyday primary care, urgent care, and online therapy on PlushCare with a flat monthly fee.
Sesame: Best for its in-person care option
Sesame doctors are local to you, so you're able to schedule a visit in-person or virtually–whichever fits your schedule best.
Ritual: Best for couples counseling
Ritual's personalized planning and one-on-one therapy sessions aim to help you and your partner improve various aspects of your relationship.
WellTheory: Best for autoimmune care
WellTheory specializes in coaching and guidance for people living with autoimmune diseases, with each plan specifically tailored to individuals based on their symptoms and lifestyle.
Hims: Best for men's health
Medical professionals who work through the Hims platform provide advice and treatment for common health complaints for men, including but not limited to anxiety and depression, erectile dysfunction, acne, and loss or thinning of hair.
Hers: Best for women's health
From anxiety and depression treatment to skin and hair care, Hers offers a wide array of female-centric resources to improve your health and happiness.
Teladoc: Best for local virtual care
With a large provider network in all 50 states, Teladoc matches you with a local doctor who understands the health trends in your area.
Amwell: Best for second opinions
Amwell's MyConsult service is ideal for people who'd like a second opinion on a diagnosis and aren't sure if their treatment plan is best for them.
Maven Clinic: Best for family planning
Maven guides people having children and their partners through every step of planning and raising a family.
MDLIVE: Best for quick psychiatric appointments
It can take weeks or longer to get an appointment with an in-person psychiatrist, but MDLIVE can connect you in just a few days.
Lemonaid Health: Best for customized doctor-patient matching
Lemonaid aims to match you with a doctor who's a perfect fit for your lifestyle, health goals, and specific medical conditions.
How We Chose the Best Online Doctors
We chose the best online doctors and medical services based on factors most patients find important, such as reliability, flexible appointment times, insurances accepted, and customer satisfaction. We've also provided options at varying price points to suit many types of patients.
How can you reach a doctor?
The best online doctors offer a variety of ways to connect with patients, such as live chat, text messaging, phone calls, and email. Video consultations are the most common way to meet with a telehealth provider, as a visual examination is often required for an accurate diagnosis. Most telehealth services are app-based and accessible via a desktop computer or mobile devices.
What services are available?
Online doctors provide many of the same services you can get from an in-person visit, including preventative care, treatment for chronic conditions and acute medical concerns, lab orders, and more. Ideally, telehealth doctors should be able to send prescriptions to your local pharmacy, although there may be some restrictions on the types of drugs they can prescribe. Many online doctor networks include clinical psychologists and psychiatrists who practice mental and behavioral health care. Specialists usually aren't included, but most physicians can provide referrals to a specialist in your area.
How long does it take to reach a doctor?
Most telehealth services have same-day appointments and can connect you to a doctor almost instantly. The best online doctors let you choose a specific appointment time that's convenient for you. Services with a large doctor network offer 24/7, on-demand virtual visits, so you'll get trusted medical care any time, day or night.
The Best Online Doctors of 2023
Doctor on Demand provides telemedicine services including primary care, integrated behavioral health, urgent care, chronic condition management and prevention, and care team support. Appointments are available 24/7 from a nationwide practice of dedicated providers, and you can see the same provider regularly once you've found the one you like. The service is focused on building a fulfilling doctor-patient relationship that can replace or supplement visits with a primary care physician. Doctors can order lab tests, prescribe medications, and provide refills for drugs you're currently taking. You'll pay a flat fee for each 15-minute video consultation, with an extra charge for therapy and psychiatry services. Doctor on Demand is covered by most health plans, including Medicare and Medicaid.
Doctor on Demand's urgent care services can treat issues such as headaches, fever, skin conditions, allergies, and health problems specific to women and men. The service isn't intended for problems that may require emergency room care, though, including chest pain, severe burns, broken bones, and difficulty breathing.
Doctor on Demand has a free mental health assessment that can help you determine if you'd benefit from professional counseling services. Its network of therapists and psychiatrists offer talk therapy and medication management, as well as diagnoses for depression, anxiety, and other mood disorders.
Cost
Insurance accepted
Services
15-minute live sessions: $75

Therapy: $129

Psychiatry: $299
Yes
Primary care
Urgent care
Mental health care
Chronic condition management
Pros and Cons of Doctor on Demand
Pros:
Long-term primary care
Psychiatric care available
Most insurance accepted
Cons:
Additional $75 charge for visits exceeding 15 minutes
No automatic prescription refills, except for psychiatric drugs
Do customers like Doctor on Demand?
Customers agree that Doctor on Demand provides excellent care that saves them time and money. As one says, "With my current health insurance, I'm actually SAVING money because I don't have a copay to use this app." "I waited less than two minutes and the appointment probably only took five minutes," writes another. The biggest complaint is a lack of responsive customer service. "I have messaged multiple times with no reply," one user remarks.
---
BetterHelp calls itself the world's largest online counseling service, with therapy sessions offered for individuals aged 18 and older. You can schedule a virtual consultation on the day and time of your choosing or talk to a therapist via text message anytime with no appointment needed. Once you've signed up, the system automatically chooses the best-matching counselor based on your mental health concerns and other preferences. Other perks you'll get include access to more than 150 digital worksheets and modules that can help supplement the counseling process, plus live weekly group seminars led by therapists who are experts in their field.
The BetterHelp network consists of accredited psychologists, social workers, licensed professional counselors, and licensed marriage and family therapists. Once you've signed up for an account, you'll be connected with a matching therapist within 24-hours. BetterHelp services generally aren't covered by insurance, but prices are comparable to what you'd pay for a traditional copay. BetterHelp isn't suitable for people diagnosed with a severe mental illness or those who are required to attend therapy by a court order.
Cost
Insurance accepted
Services
$80-$100/week, billed monthly
No
Individual counseling
Pros and Cons of BetterHelp
Pros:
Free mental health resource library
Flexible counseling options
Cons:
No live support
Doesn't accept insurance
Do customers like BetterHelp.com?
A satisfied BetterHelp customer says, "…Their easy process and amazing counselors have helped me become my best self." Another says, "Reasonably priced and they do a wonderful job at matching therapists." A few users had problems connecting with their therapist; one notes, "After chatting with the assigned counselor she had no free slots for next two weeks only to discover she didn't really have expertise in what I needed help with."
---
With JustAnswer Medical, you can ask almost any health-related question and get a doctor's response via chat within minutes. The service is fairly basic, but it's a quick way to get expert advice about medications, illnesses, and tips for healthy living. A JustAnswer doctor listens to your symptoms and can advise you to seek in-person medical attention if needed. Its network includes doctors in many specialist fields, including pediatrics, gynecology, dermatology, and internal medicine. Physicians on JustAnswer are carefully vetted and must verify their credentials before accepting patient questions on the platform.
JustAnswer charges you a small fee to post a question, with an additional charge for each follow-up question. You can ask questions 24/7, but there might be a short wait time to get a response as the number of online doctors varies throughout the day. The service is not intended for primary care, urgent care, or diagnosis. Doctors cannot order lab tests or write prescriptions, although they can answer questions about drug interactions or medications you're currently taking. Questions can be asked via text chat, with the option of a phone consultation for an extra fee.
Cost
Insurance accepted
Services
$16-$52 – monthly average cost of JustAnswer Medical
No
General health questions
Pros and Cons of JustAnswer
Pros:
Pay by the question
No appointment necessary
Specialists available
Cons:
No primary care
No lab tests, prescriptions, or sick notes
Do customers like JustAnswer?
Customers appreciate the quick and helpful responses of doctors on JustAnswer. One user says, "The doctor was so encouraging to me. He helped me so much, and calmed my fears." "Super helpful to anyone who may be in a panic about their situation," another adds. Some customers complain about billing issues, though. "I paid the $5 for the question, but was completely unaware that they were also charging me an automatic $54 monthly fee on top of that," says one.
---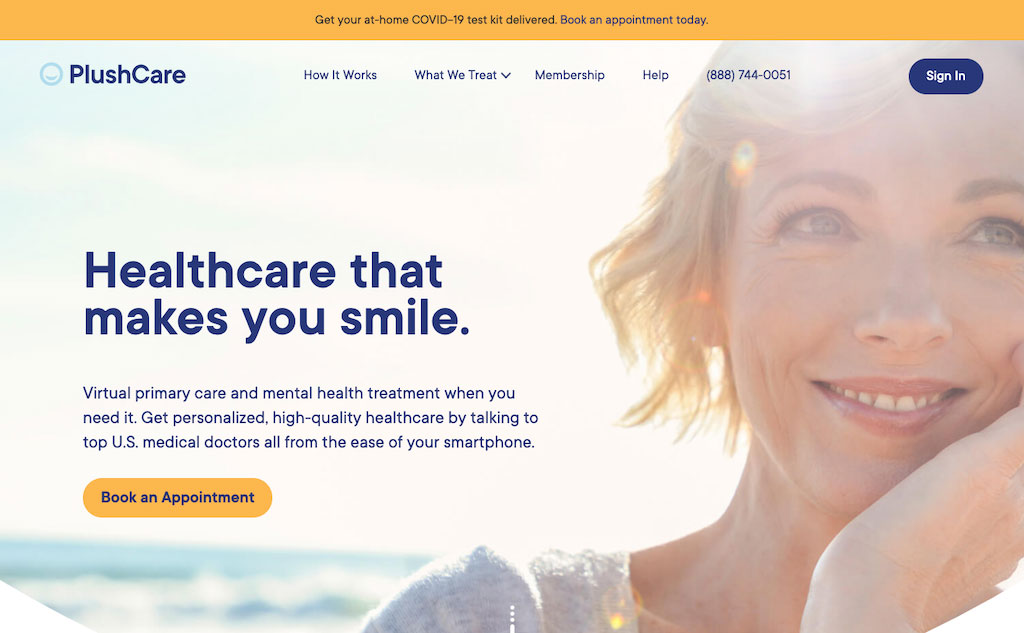 PlushCare's physician network of doctors from the top 50 medical institutions in the U.S. treat a wide range of medical needs, including urgent issues, chronic conditions, and mental health concerns. The service is ideal for everyday primary care. PlushCare offers online talk therapy for depression, grief, life transitions, and relationship issues. Therapists coordinate with other doctors on your PlushCare team, who can prescribe medication or an in-person assessment if needed. Currently, the online therapy service is available in several states and there are plans to continue expanding.
Aside from the monthly fee, PlushCare customers are charged a flat rate or copay per session. Most Blue Cross and Cigna plans are accepted. PlushCare also offers a medication delivery program that allows you to have prescriptions mailed directly to your home. There is an additional monthly charge for the service which is not covered by insurance, so the program is open to cash pay customers only. PlushCare membership includes a prescription discount card that can save you up to 80% on medications at your local pharmacy.
Cost
Insurance accepted
Services
$99/visit (or copay), plus $14.99/month

Prescription delivery program: $99/month
Yes
Everyday care
Urgent care
Chronic condition management
Mental health care
Online therapy
Pros and Cons of PlushCare
Pros:
Prescriptions can be delivered to your door
Offers a discount for veterans and active military
Cons:
Therapy available in limited states
Subscription required
Do customers like PlushCare?
Customers of PlushCare say its doctors are compassionate and take the time to listen to their problems. "Personable, professional, and made sure I understood everything he was prescribing and why," says one about their doctor. Another notes that her doctor "was conscientious and had a good bedside manner." Some customers have experienced issues with customer service, however. One user remarks, "They did nothing to help me and have not actually responded to any of my emails."
---
Sesame's telemedicine platform is ideal for many urgent medical issues, including treatment of infections, fevers, nausea, and more. You'll get care from a board-certified physician, dentist, or nurse practitioner, depending on symptoms and the reason for your visit. Unlike most other telemedicine providers, doctors on Sesame's platform set their own prices, availability, and services they can offer. Sesame suggests doctors in your area and allows you to choose the one you'd like to see. Because your doctor is local, you're able to visit them in person as well as virtually. If you like your doctor, you can see them again.
Doctors on Sesame can prescribe medicine and provide refills with a quick video consultation. They'll also order lab tests and imaging services such as an MRI or CT scan. Because each doctor sets their own prices, you can't use your insurance to pay for care. Rates are typically lowest for general urgent care and higher for certain specialty services, such as dermatology or mental health care.
Cost
Insurance accepted
Services
Video consultation: $25-$55

In-person visit: $37-$110
No
Urgent care
Mental health care
Dental care
Dermatology
Imaging
Pros and Cons of Sesame
Pros:
Can see a doctor in person
Low prices
Choose your preferred doctor
Cons:
Live support during business hours only
Insurance not accepted
Do customers like Sesame?
Many customers rave about Sesame's ease of use and low-prices. As one says, "I absolutely love how this is allowing me to see doctors at a lower cost. You pay up front and you are treated just like everyone else." "Super simple and cheap, doctors were great," another adds. One common complaint is scheduling issues. One customer writes, "Sesame needs to be better at checking appointment times."
---
Ritual is an online therapy service specializing in romantic relationships, though the company's methods differ from those of traditional couples counseling. You'll have the option to participate alone or with your partner, but in either case your experience will involve one-on-one sessions with a trained therapist.
Each new client begins with an introductory online session, during which they'll share relationship goals with their assigned therapist. Your goals are organized into categories known as "Pathways," which focus on specific aspects of relationships you'd like to improve such as intimacy, communication, conflict, and reestablishing a romantic connection.
You'll focus on each Pathway individually, finishing one before moving onto the next. Your therapist provides daily activities and exercises for actively working on the Pathway, and supplements your progress with weekly one-on-one sessions to discuss your progress. These sessions last 15 to 20 minutes apiece, making them relatively short compared to those conducted during traditional couples therapy.
The Pathways are self-paced, but most can be completed in 1 to 2 months. You can opt out of Ritual any time without paying a cancellation fee, though you'll be billed through the end of the current month.
If you choose to obtain counseling through Ritual on your own, you can choose between weekly or bi-monthly meetings with your therapist. Couples who enlist in Ritual's services receive three individual sessions for both people, plus a joint session at the end of the month.
Cost
Insurance accepted
Services
Individual Therapy: $100 (bi-weekly) or $160 (weekly)/month

Couples therapy: $260/month
No
Individual and couples counseling
Pros and Cons of Ritual
Pros:
Relationship counseling tailored to each client's specific needs and goals
One-on-one sessions with trained therapists included with each membership
Clients can choose to participate alone or with their partner
Cons:
Health insurance does not cover Ritual's monthly fees
Monthly charges are somewhat expensive when receiving therapy with a partner
Do customers like Ritual?
Ritual's website features client testimonials categorized by Pathway. "The pain and shame I'd feel each time I got jealous was too intense to actually talk about it with my girlfriend," writes one client regarding their conflict Pathway. "Having the space to process helped me transform the conversation." The feedback for intimacy and communication Pathways is also positive.
---
WellTheory is an online service specifically tailored for people living with autoimmune diseases. The company's staff is trained to work with this population of the medical community, and many are personally affected by chronic health conditions themselves. Although WellTheory can positively impact anyone struggling with autoimmunity, these services are intended to supplement primary medical care from your physician.
First-time WellTheory visitors are asked to complete a brief survey about their autoimmune disease and medical history, along with their name and home state. After receiving approval, you'll schedule a one-on-one consultation with one of the company's specialists. This initial meeting is free of charge.
From there, you'll receive coaching with regard to nutrition and lifestyle changes in order to manage your symptoms. WellTheory monitors your progress and measures improvement based on biomarker reductions and whether you experience fewer symptoms. You can also ask to be tested for microbiome analysis, food sensitivity, and other factors that influence your autoimmune health.
Your subscription comes with two consultations with your specialist per month, as well as a personal care plan and access to additional resources such as advanced testing and medical supplements. Although you cannot pay for the subscription with medical insurance, FSA and HSA credit cards are accepted. WellTheory allows you to end your subscription at any point. A full refund is issued within the first 30 days if you aren't satisfied.
Cost
Insurance accepted
Services
Medical: $125/month
Yes
24/7 patient care
Medical testing (optional)
Pros and Cons of WellTheory
Pros:
Services cover a wide range of autoimmune diseases and chronic health conditions
Each subscriber receives a personalized medical care plan
Optional testing available for microbiome analysis, food sensitivities, hormone panels, heavy metals, and environmental toxins
Cons:
WellTheory does not accept medical insurance
Those who are not currently experiencing any symptoms do not qualify for a subscription
Do customers like WellTheory?
In addition to testimonials from WellTheory staff members and clients, the company's website features feedback from licensed physicians who have worked with or witnessed the impact of WellTheory. "This program is a wonderful way to orient yourself to the autoimmune paleo protocol," writes Dr. Fiona McCulloch, N.D. "The team provides unwavering, empathic support, and expert guidance through each step of the program."
---
Hims is a virtual primary care service that provides treatment for hair loss, erectile dysfunction, anxiety, and other conditions commonly experienced by men. To get started, you'll provide your medical history and reason for visiting, then be matched to a healthcare provider in your state who will evaluate symptoms and guide you toward a diagnosis.
Medical providers who work through the Hims platform have the ability to write prescriptions if they deem it appropriate. Hims also has the ability to send medications directly to your home, including hair regrowth solutions, acne cream, and anxiety and depression prescriptions. However, some medications must be sent to your pharmacy. Hims also sells some non-prescription products that can supplement your care, such as herbal teas intended to promote relaxation and restful sleep. Hims offers live, anonymous mental health support groups led by licensed therapists and mental health and wellness professionals that are free for anyone to join.
Hims' primary care treats more than 30 basic medical problems, and you can get care over the computer or on the phone. Insurance does not cover Hims consultations, but it may pay some or all of the cost of your prescriptions, depending on the plan you have.
Cost
Insurance accepted
Services
$39/consultation
No
Men's health
Primary care
Mental Health
Skin care
Sexual Health
Pros and Cons of Hims
Pros:
Specific care for men
Home delivery for some prescription products
Competitive pricing
Cons:
Some prescription products require you to visit a pharmacy
Insurance not accepted
Do customers like Hims?
Many users are happy with the service and products Hims provides. One has this to say: "The whole experience has been positive, product cost was appropriate, the manner in which it was packaged was very convenient." Another user adds, "The website is easy to navigate. I always have great customer service and it is very prompt." Some customers have experienced issues with slow shipping, however. "Shipping can take a week or more, despite what the website may advertise," one says.
---
A fitting counterpart to Hims, Hers specializes in online help for women. The company's services run a wide gamut, including anxiety and depression treatment, birth control, and hair and skin care.
Those seeking mental health care are asked to complete a questionnaire about their current emotional state, how long they've been experiencing issues with depression or anxiety, measures they're taking to alleviate their symptoms, and goals they hope to accomplish through Hers. If approved, they'll be connected with a mental health specialist and may also qualify for prescription medication delivered directly to their residence.
Medical services operate in a similar manner, including an initial survey, one-on-one consultation with a medical provider, and — if needed — prescription medication deliveries. You'll pay a flat fee for the first consultation, which is not covered by insurance, but your subsequent prescriptions may be covered depending on your plan.
Birth control, cold sore kits, and yeast infection treatments are also available for approved visitors who qualify for a prescription. The same applies to hair and skin treatment items that require a prescription. Other products such as prophylactics and shampoo normally sold over the counter are available to all site visitors. Hers subscriptions allow you to receive a 20% discount on your treatment plan for the first three months, after which you'll pay a flat monthly fee.
Cost
Insurance accepted
Services
First consultation: $39

Subscription: $49/month
No
Medical care
Mental health care
Hair and skin care
Sexual health
Pros and Cons of Hers:
Pros:
Wide range of services covering physical, mental, and sexual health
Medications qualify for coverage under most medical insurance plans
Non-prescription products are available to all visitors, even without a subscription
Cons:
Pharmacy visits may be required for certain prescriptions
Insurance does not cover the cost of the initial consultation
Do customers like Hers?
Reviews on the Hers website are positive across the board. Many testimonials focus on the company's hair and skin care services. "Hers has made it easier for me to combat my stress induced alopecia without the hassle of in person doctor visits," writes one satisfied customer. Others share "before and after" photos to show the positive effects of Hers' skin care products.
---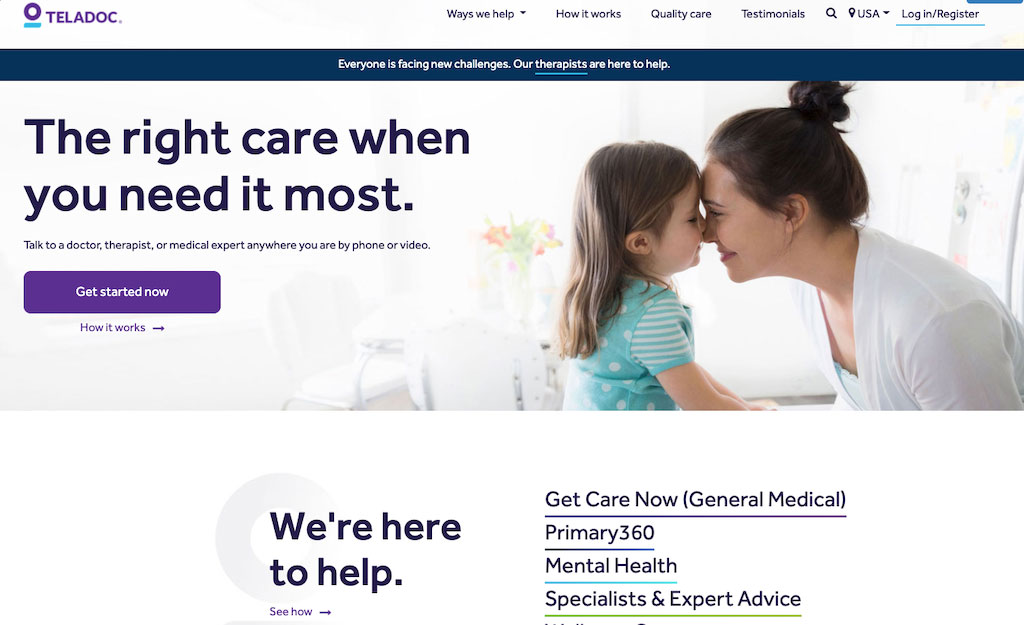 Teladoc's network includes urgent care doctors, therapists, pediatricians, and specialists in more than 450 fields. Its Primary360 service matches you with a local doctor who understands illnesses and health trends in your area, which may help you receive a more accurate diagnosis.
Get Care Now provides treatment for adults and kids suffering from colds, infections, stomachaches, and other non-emergency concerns. With both services, doctors can prescribe medication, order lab tests, and share medical notes with other clinicians in your care team. Counselors and psychiatrists are on call for mental health screenings and talk therapy. Teladoc offers wellness coaching for tobacco cessation, spine care, and management of chronic conditions such as diabetes.
Consultations are available 24 hours a day and provided via phone, video chat, and the Teladoc app. The company charges a flat rate for urgent and primary care, although you might pay as little as $0 per visit, depending on your insurance. There is an additional fee for psychiatry and dermatology services, but this isn't disclosed on the Teladoc website, so you'll need to set up an account to see the amount.
Cost
Insurance accepted
Services
Everyday Care: $0/visit (with insurance)

Everyday Care: $75/visit (without insurance)
Yes
Urgent care
Primary care
Mental health care
Nutrition
Dermatology
STD testing
Pros & Cons of Teladoc
Pros:
A large network of specialists
Wellness coaching
No time limit for consultations
Cons:
Unclear pricing for some services
Primary360 care for adults 18+ only
Do customers like Teladoc?
"The app is really easy to set up and walks you through everything. Scheduling appointments is easy and it's fast," says a customer who's impressed with the service. Another is pleased with Teladoc's pricing, saying, "My insurance covers this service so it is super convenient." However, some customers had difficulty connecting with a doctor by phone. One writes, "My biggest irritation is when receiving calls from the doctor, it will come from an unlisted number."
---
Amwell's urgent care consultations are available 24/7, with no appointment required to see a doctor. You'll provide the reason for your visit and get matched with a board-certified physician almost immediately.
Therapy and psychiatry services are also available for an extra fee and include one-on-one counseling, mental illness screening, and medication management. Amwell provides a number of specialty services for women who are pregnant, postpartum, breastfeeding, or going through menopause. Its network includes pediatricians who treat infections, rashes, allergies, and many other common medical problems in kids.
Amwell is partnered with the Cleveland Clinic to offer its MyConsult service, which provides a second opinion on any third-party diagnosis.
Amwell isn't intended for ongoing primary care, so you can't choose to see the same doctor on a regular basis. Doctors can write prescriptions for many types of medications, such as antibiotics and blood pressure drugs, but they're unable to order lab tests on your behalf. Amwell charges a flat rate per 10-minute visit and accepts all major insurance providers.
Cost
Insurance accepted
Services
Urgent care: $79

Therapy: Master's degree visit for $99, Ph.D. visit for $110

Psychiatry: Initial assessment $269, Follow-up visits $99
Yes
Urgent care
Second opinions
Mental health care
Dermatology
Pediatrics
Women's health
Pros & Cons of Amwell
Pros:
No appointment needed for urgent care
24/7 support
Second opinions offered
Cons:
Can't order lab tests
Not for primary care
Do customers like Amwell?
Overall, Amwell customers praise the company's accessible approach to care. "The visits are convenient, the staff more than competent, and the fees reasonable," writes a user. Another notes, "The physician was personable and listened very well to my symptoms. The treatment he prescribed help me a lot." However, some patients have experienced billing issues. One says, "I could not delete a credit card when I needed to change payment modes. Your insurance options listed do not match the plans you accept."
---
Maven Clinic is a comprehensive care provider for couples and individuals wishing to have children. It provides caring medical guidance for those considering fertility treatments, surrogacy, egg freezing, or adoption, and can help individuals and couples choose their best option. Maven physicians support people during pregnancy and beyond with around-the-clock virtual care.
Patients who are pumping while traveling for work can use Maven's breast milk shipping service to safely ship milk wherever it needs to go. Counseling is available for parents struggling with postpartum depression, anxiety, and other common mental health issues. The company's network includes 25 types of specialists, including OB-GYNs, sleep coaches, and lactation consultants.
Maven is intended to complement in-person maternity care, not replace it. Its services may be free if your employer offers Maven member sponsorship. You'll pay a fixed rate per service without employer sponsorship as the company doesn't accept insurance. Upon signing up, you'll be paired with a dedicated Care Consultant who can help you find local specialists, provide referrals, and answer questions any time of day or night.
Cost
Insurance accepted
Services
Nurse practitioner, Midwife: $18/10-minute appointment

Doctor: $35/10-minute appointment

Nutritionist, Physical Therapist, Lactation Consultant, Doula: $25/20-minute appointment

Baby Sleep Coach, Wellness Coach, Back-to-Work Coach, Sex Coach: $50/30-minute appointment

Therapist: $70/40-minute appointment

Psychiatric Nurse Practitioner: $90/30-minute appointment
No
Family planning
Maternity care
Postpartum care
Pediatrics
Pros and Cons of Maven:
Pros:
Extensive family planning services
Free with employer sponsorship
Cons:
Insurance not accepted
No live support
Do customers like Maven Clinic?
Patients agree that Maven is an excellent supplement to in-person care. One user says, "I got a 7pm same-day appointment with a world class reproductive endocrinologist when I needed fertility advice after a miscarriage." "It's a life saver if you need a prescription between exams," another writes. Some users express difficulty connecting with a doctor, though, "I really felt no sense of welcome from this physician, which is something I have never dealt with from the doctors I see face to face."
---
Some of MDLIVE's major services include urgent care, dermatology, talk therapy, and psychiatric assessments. Counselors in the MDLIVE network are on call 24/7 to help with a variety of behavioral health concerns. Counseling is available for children and adolescents. MDLIVE can get you an appointment with a doctor in a few days or less, much faster than in-person visits. Appointments for dermatology may be available even sooner. If you're concerned about a strange rash, mole, or other skin condition, a dermatologist can provide a quick diagnosis with a photo or video chat.
MDLIVE is not a virtual primary care provider, so you can't choose to see a doctor on a regular basis. Doctors can write prescriptions for most medications but are unable to order lab tests or interpret results. Services are provided through the iOS or Android app as well as most desktops equipped with a webcam and microphone. Deaf and hard of hearing patients can get care through MDLIVE's HIPAA-compliant website chat feature.
Cost
Insurance accepted
Services
Medical care: $82 or less with insurance

Counseling: $108 or less with insurance

Psychiatry: $284/initial visit, $108/follow-up appointment or less with insurance

Dermatology: $75 or less with insurance
Yes
Urgent care
Dermatology
Therapy
Psychiatry
Pros and Cons of MDLIVE
Pros:
Clear pricing
Fast appointments for therapy/psychiatry
Live support
Cons:
No lab tests
Not for primary care
Do customers like MDLIVE?
Customers rave about the convenient appointments MDLIVE offers. As one user puts it, "I can't remember the last time I had to go to my primary care doctor for a simple diagnosis because MDLIVE is that easy!" "I used their app and the doctor contacted me within 10 minutes. He promptly sent my prescription to my pharmacy," says another. Some patients have issues locating records from their appointment, however. One remarks, "I do not have my chart and needed to refer back to it and couldn't find it again."
---
Lemonaid Health is a comprehensive primary care service focused on helping you build a great relationship with your online doctor. You'll start by answering questions about medical concerns, health goals, and your overall lifestyle so Lemonaid can match you to a doctor who's the perfect fit. If you follow a diet plan, such as Whole30 or gluten-free, you'll be connected to a physician who supports your nutrition goals and specific health needs. Your doctor can help with chronic conditions and urgent problems, as well as preventative medicine, which may include mental health screenings, weight-loss counseling, and a smoking cessation treatment plan. Once you're matched with a doctor, you can call, text, or video chat with them at any time.
Lemonaid offers two subscription plans for either individuals or families. Both plans require an annual membership commitment with service fees paid on a monthly basis. Most insurance won't cover Lemonaid membership, but you can use your health savings account (HSA), flexible spending account (FSA), or health reimbursement account (HRA) to pay for care.
Cost
Insurance accepted
Services
Individual Plan: $99/month

Family Plan: Starting at $178/month
No
Primary care
Mental health care
Chronic conditions
Men's and women's health
Preventative care
Labs and screenings
Pros and Cons of Lemonaid Health
Pros:
Personalized long-term care
Family plan
24/7 customer support
Cons:
Annual subscription required
Insurance not accepted
Do customers like Lemonaid Health?
"He was precise, concise and went into great detail with all of my questions/concerns," one customer says about their Lemonaid doctor. Another remarks, "She has been one of the most empathetic doctors I have ever gone to. Her bedside manner is second to none." Some users, though, find customer support lacking. "When you try to get in touch with customer service, it takes days to get a response," one says.
What to Look for in an Online Doctor
Services
Online doctors offer many services, including urgent and primary care, counseling, psychiatry, dermatology, and maternity care. Find one that provides the service you need.
Cost
Prices for online care vary considerably depending on the length of visit and services required. Typically, you'll either pay a flat rate per consultation or a monthly subscription fee that includes multiple visits.
Insurance acceptance 
Many online doctors accept major health insurance plans. Insurance usually won't cover telehealth subscriptions, although you may be able to pay the fees with your HSA or similar medical savings account. You should consider these factors before moving forward with a doctor.
Prescriptions
Most of the time, doctors can write prescriptions for various medications (including refills) if they feel it's necessary. Prescriptions may be sent to your local pharmacy or directly to your home. Doctors can't provide prescriptions for certain types of drugs, including narcotics and medications that are restricted by laws in your state. You should consider the medications you may need before picking a service.
Lab tests
In many cases, online physicians can order lab tests for blood work and imaging, including MRIs and x-rays. Whether a doctor can order tests depends on laws and regulations in your area, among other factors. You may need to visit a testing center in person, although some types of tests can be done at home.
What Does COVID-19 Mean for Online Doctors?
The demand for online medical care has exploded during the COVID-19 pandemic, largely due to doctors and patients who'd prefer to limit in-person contact when possible.
Patients who lack transportation or live a long distance from the nearest clinic have benefited greatly from the convenience telemedicine provides. In many cases, doctors are able to virtually meet with patients who couldn't get a ride to the office.
In July of 2020, the U.S. Department of Health and Human Services released a report depicting impressive utilization trends for primary care telemedicine services throughout the COVID-19 pandemic, particularly by Medicare beneficiaries.
In the D.C. metro area, Kaiser Permanente established a telemedicine health monitoring program to keep COVID-19 patients out of the hospital, which relieved some of the burdens on the overwhelmed health care system.
Sources
Learn more about the evolving landscape of telemedicine from the sources we used for this guide.